Author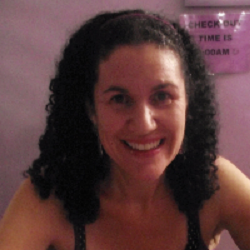 Andrea Payme
Andrea Payme is a freelance copywriter and editor from New York City who has been living in Panama since 1999. A former Corporate Special Events Planner, Peace Corps volunteer, and the founder of the first backpacker hostel to ever open in David City, Panama, Andrea has a lot to write about! When she's not writing, she enjoys trying to figure out ways to manage her super-curly hair, swimming for exercise, and reading. Her favorite quote is "Wanna know how to make God laugh? Tell Him your plans!"
Baby bangs are trending now. See the best short fringe versions and choose your next look!
Honey blonde hair tones give the perfect balance to women with blonde and brown hair seeking a subtle upgrade to their natural hair shade without going overboard or making a drastic change. Check out 20 perfect options that will inspire your next hair color!
When you're looking for a fantastic new hairstyle for your curly hair, why not try some different braid options to give it an extra special touch? Stylish cornrows, French, goddess, and lemonade braids — the list of braids for curly hair goes on and on. Pick a style that suits your hair texture, and you'll look great at your next big event! [click to continue…]
If you were born with light brown hair, you know better than anyone else about the blessings of this versatile shade. Quite easy to transform yourself into a light, bright blonde, and even easier to dye down to a darker tone – there's literally something for everyone. We have more ideas in store for you, as it's a very rewarding time to embrace your luscious light brown locks! [click to continue…]
Braids named after a summer drink? What's that all about? We think we know! Just like their "bigger than life" spokes-icon, Beyonce, lemonade braids are refreshing and tasty, tart and sweet, and quenching the thirst of thousands of women who are "putting a ring" on the look. [click to continue…]
Are you a modern woman on the hunt for a classy, statement hairstyle? Our long inverted bob variations are a fabulous declaration of femininity mixed with a bit of boldness that is sure to take your hair to the next level! [click to continue…]
There are lots of ways to draw attention to your favorite facial features. A haircut, as well as color, makeup, jewelry, and upper-body clothing all play a role in framing the face. It's just a matter of deciding how to put them all together to make the best presentation. Today we talk about trendy face-framing highlights as the quickest and most foolproof way to emphasize your best assets. [click to continue…]
If you're not old enough to have heard of actress Bo Derek, you're probably at least old enough to know who singer-songwriter Alicia Keys is. Aside from being stately, beautiful, and successful women, these gorgeous celebrities have something else in common: they're both known for their classic Fulani braids. [click to continue…]